Why does your home have gutters?
Your roof is designed to keep away the elements, namely rain and snow. The gutters on your roof are there to catch those elements and move them away from your roof, your house and your foundation. Gutters are the first line of defense in a comprehensive water management strategy. GSM has experts who understand the weather conditions that Michigan gutters and gutter products need to protect against.

Without a properly functioning K-Style gutter system, water will cause a variety of problems including foundation damage, basement flooding and soil erosion. Unfortunately, most homeowners don't think about gutters until these problems arise. Gutter systems aren't just the seamless gutters either, you also need guards for your gutters to protect against leaves, debris, and critters who like to damage and nest in your new gutters.
Our seamless gutter systems divert water from your home and stop it from entering and causing structural damage or flooding. We install state-of-the-art aluminum gutters that are properly sized to accommodate heavy amounts of water all while looking proportional to your home. Trust the experts with your gutter installation.
Aluminum
It just works!
Reliable, consistent, and inexpensive, aluminum is the ideal material for gutters. With proper maintenance, an aluminum seamless gutter system can last twenty-five to thirty years. Available in more than forty different colors, GSM gutters are hand-made to compliment your home's exterior. Our paint finish is baked into the metal (as opposed to spraying) to ensure it will resist chipping, peeling, flaking, and normal weather conditions. Our aluminum seamless gutters are available in standard thickness (.027) and optimal (.032).
Galvalume®
Probably the most important metal you've never heard of.
Created in 1972, Galvalume gutters combines the strength of steel with a coating of 55% aluminum and 45% zinc. This results in a rust resistant and durable seamless gutter that makes your house look incredible. It resists corrosion so well that Galvalume can last on average between 70-150 years. Unlike copper gutters that change colors and patina over time, Galvalume has a "gun-metal" finish that resists fading and stands up to the elements.
Copper
Meant for more than just pocket change.
The durability and beauty of copper gutters have adorned buildings for centuries. Today, copper can be customized to showcase your home's style and personality. With its gradual patina moving from bright to a dark brown and green tint, copper gutters look amazing whether you have a historical property or a modern home.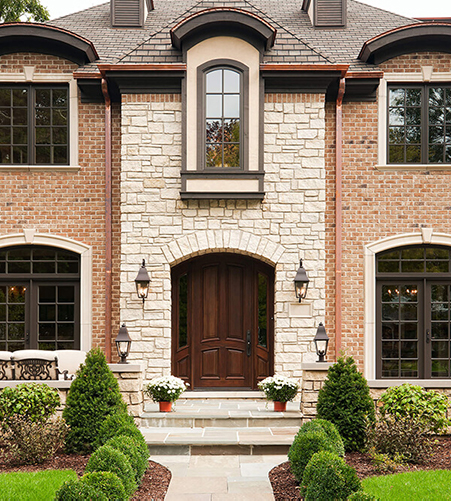 Which Gutters Do I Need?
The K-style gutter is by far the most popular and efficient in residential applications (see below). K style gutters account for more than eighty percent of the domestic gutters. Our K-style gutter sizes are either standard (5 inches wide) or oversized (6 inches wide). The wider the gutter, the more water it can handle. There are many types of gutters and gutter products out there, but our seamless gutter and downspout installation experts will work to find the perfect fit for your home.
Let our experienced team provide you with the best selection for your home and its unique needs.
Solutions
From seamless gutters and gutter protection to drainage systems, we have customized solutions to perfectly enhance your home's design.